Construction Passenger Hoist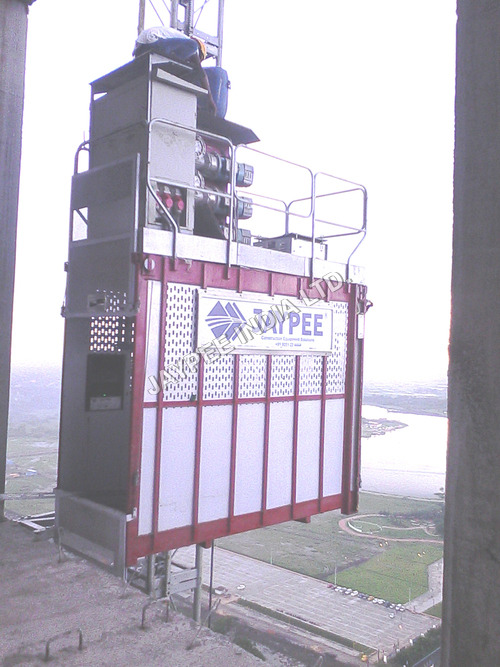 Construction Passenger Hoist
Product Description
We have marked a unique place in the market by manufacturing and supplying an extensive range of Construction Passenger Hoist. With its heavy weight bearing capacity, the hoist finds its application in several construction and logistic industries for the purpose of transferring workers to an elevated area. To manufacture the hoist, we use finest quality materials, sourced from the most reliable vendors. Our Heavy Duty Passenger Hoist has enough space for passengers and it is well enclosed to provide safety.

Features:
1) Manufactured in tandem with the industry laid norms and guidelines
2) Resistant to tough working conditions and can withstand heavy load
3) Stringent quality checking done before final shipment


General Passengers Hoist:
As a part of Man and Material Handling Solutions, Jaypee brings to your interest a wide range of Passenger and Materials Hoist. Brought to your service is a range which can lift up to 8000kg, with a lifting speed that can reach up to 96m/min and an attainable max. erecting height of 450m. These Products can be used in various construction sites, power projects, metallurgical, mining, oil and chemical industries.

Our Construction Hoists feature high quality materials and Products and components from world renowned manufacturers. The Rack and Pinion adopts a specially processed material and heat treatment technique, prolonging the life of these parts. The mast section surface can be finished with paint spray, Parkerizing baking finish or hot galvanizing processing as per user requirements.


Frequency Conversion Hoist Frequency Conversion Hoist:

1) To serve the increasing demand for high-rise construction we offer the high speed VF hoist, with a max. lifting speed of 96m/min. A few salient features of these hoists are:
2) Adopts the most advanced VF speed control device and microcomputer programmable logic controller.
3) Step-less speed control helps eliminate the concussion during start-up and braking, steadies the operation and ensures automated leveling.
4) Adopts open loop VF control; the speed precision can reach +_ 2~3%. Realising the accurate low speed positioning of the hoist, thus avoiding slipping during downward stopping of the hoist.
5) The VF system has current restriction function, suring lower current in motor start-up and reduces the concussion to power supply. This reduces the energy consumption are site.
6) The steadiness during operation, mitigates concussion to mechanical parts, reduces wears of rack, pinion and the brake, prolonging the life of these parts.
7) The VF system also has the over voltage protection, low-voltage protection, over-current, overload and anti-stalling protection functions.


Our Products are assembled in the following categories:

1) In single and in twin cage configuration
2) Innovative design and excellent comfort
3) Electric cabinet of stainless steel inside the cage
4) Dual entrance at base landing level is optional
5) Wide range of functions and optional equipment
6) High speed variable Frequency Hoist. Curved and Inclined hoist and Mini hoists

Durable materials, high quality steel for increased and weight reduction, cage walls and doors cladding of perforated steel sheeting or Aluminium sheeting with mast sections of hot dip galvanized steel. All electric cabinets and landing control boxes of stainless steel.


Technical Specification:
Type
JCH 100
(Single Cage)
JCH 100/100
(Twin Cage)
JCH 200
(Single Cage)
JCH 200/200
(Twin Cage)
JCH 300
(Single Cage)
JCH 300/300
(Twin Cage)
Load
1000 kg
1000 kg
2 x 1000 Kg
2 x 1000 Kg
2000 Kg.
2 x 2000 Kg.
3000 KG
2 X 3000KG
Speed
0-36 m/min
0-60 m/min
0-36 m/min
0-60 m/min
0-36 m/min
0-60 m/min
0-36 m/min
0-60 m/min
0-36 m/min
0-60 m/min
0-36 m/min
0-60 m/min
0 - 60 m/min
0 - 60 m/min
Cage Size


2.4 x 1.2 x 2.1) MTRS, (3 x 1.2 x 2.1) MTRS, ( 3.2 x 1.5 x 2.1) MTRS
Motor Power
2 x 12.5 HP
2 x 12.5 HP
2 x 2 x 12.5 HP
2 x 2 x 12.5 HP
3 x 12.5 HP
2 x 3 x 12.5 HP
3 x 15 HP
2 x 3 x 15 HP
Safety Device
JAS 30-1.2 (M5)
JAS 30-1.2 (M8)
JAS 30-1.2 (M5)
2xJAS 30-1.2 (M8)
JAS 40-1.2 (M8)
2xJAS 40-1.2 (M8)
JAS 50-1.2 (M8)
2xJAS 50-1.2 (M8)
Mast Section
450x450x1508
650x650x1508
450x450x1508
650x650x1508
650x650x1508
650x650x1508
650x650x1508
650x650x1508
Weight With Rack
Mast Section (approx.)
78 KG
123 KG
96KG
151 KG
123 KG
151 KG
123 KG
151 KG
Rack Module
5
8
5
8
8
8
8
8


Type
Payload (KG)
Lifting Speed (M/Min)
Motor Power (KW)
Adaptable Angle
Curved
Construction Hoist
PMHC 60
600
33
1 x 9.3
80- + 210
0 - 60 (VVVF)
2 x 9.3


PMHC 120
1200
33
2 x 9.3
100- + 250
0 - 60 (VVVF)
2 x 11.0


Inclined
Passenger Hoist
PMHI 100 / 100
2 x 1000
33
2 x 2 x 9.3


0 - 60 (VVVF)
2 x 3 x 9.3


PMHI 160 / 160
2 x 1600
33
2 x 2 x 9.3


0 - 60 (VVVF)
2 x 3 x 11.0


PMHI 200 / 200
2 x 2000
33
2 x 3 x 9.3


0 ~ 60 (VVVF)
2 x 3 x 11.0


Trade Information
Kolkata

Cash Advance (CA)
kolkata

Middle East, Asia, Africa