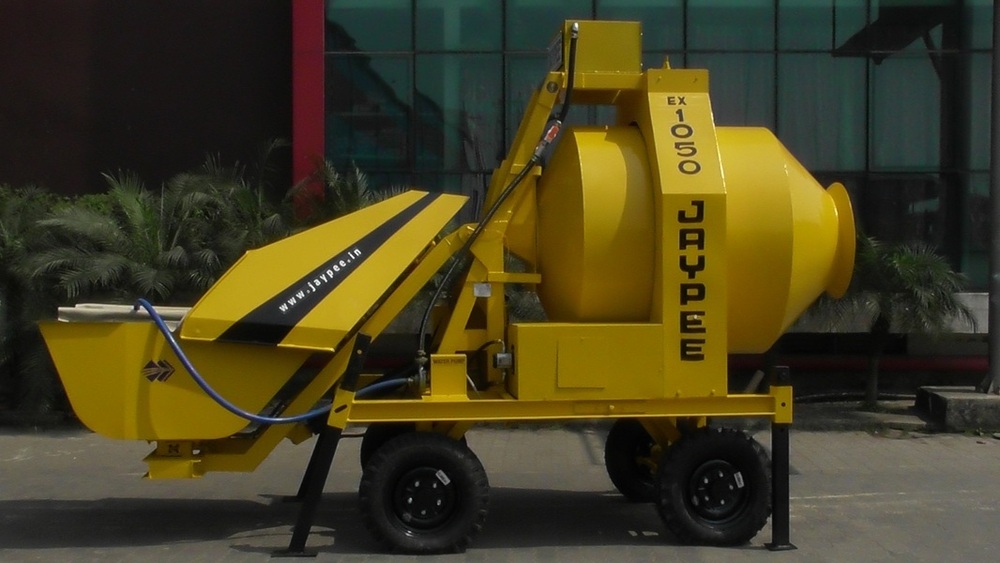 Reversible Drum Mixer
Product Code : 00
Product Description
Designed and manufactured to perfection, our company is considered as one of the renowned and preeminent manufacturer and supplier of movable Reversible Drum Mixer Machine. These are manufactured in compliance with the international standards of quality by using hi-tech technology and premium quality raw materials. Available with diesel engine drive, these drum mixer are offered at very competitive prices. Acknowledged for robust construction, impeccable performance and long operational life, our range of products are in a high demand in the global market.
Jaypee® mobile Reversible Drum Mixing Machine has become most reliable for quality output and maintenance free operation. They are typical reversible type concrete mixer where concreting is done using a revolving drum. Designed to deliver sturdy construction, a machinery is a well engineered piece of construction machinery for carrying mixing mortar from the place where it is to be poured. It also gives enough time to the workers to mix the composition before the concrete hardens.
Reversible drum mixer machines from Jaypee, one of the well known construction equipment supplier, are specialized construction equipment used to mix the concrete of cement, sand and other aggregates and carry the same from the batching plant to the area where it has to be poured.
These are essential construction equipment generally used in the construction of canals, buildings, dams and highways and are a mandate part of the mobile batching plant.

Advantages:

The operational system of the machine is silent and hence produces very little noise
It requires very low maintenance
It is portable because of its compact design and can be easily carried to the construction sites
It does not produce any concrete dust and thus the environment remains clean
Diesel reversible concrete mixer is best used for remote sites, where there is no electricity
It enables smooth mixing
Cost Saving Features:
Manufactured with high quality raw materials
Time saving high capacity mixing drum
Undergo several quality tests
Heavy duty, balanced chassis
Twin rollers
Jaypee India is committed to offer a wide assortment of mobile Reversible Drum Mixer to cater the diverse demands of its clients. A widely used machine in the construction industry is the movable reversible drum concrete mixing machine, available in single bin, two bin and multi bin models. Any leading construction company in India wants a full proof and safe product. These machines from Jaypee also prevent the wastage of water, fulfilling the responsibility towards environment.
Overflow water management system
Electronic load cell system
Reversible drum mixers required by leading construction companies, are of various types, available with Jaypee. These can be classified based on the number of bins and based on the mode of operation.
Types:
Single, double and three bins
Diesel reversible drum concrete mixer
Electric reversible drum concrete mixer
Jaypee's reversible drum concrete mixer, the leading construction machine exporter are manufactured as per global quality standards.

Benefits & Features:
High capability mixing drum.Available with diesel motor drive.
Load Cell and indicator water dispenser
Single/Double/Three Bin
Technical Data
Compact conceive for easy transport.
Mixer procedure is very silent & with clean surrounding.
Ascent & Decent of loading skip bucket is controlled by hydraulic propel.
Mixer only needs electric powered Power Supply, Water Piping, Agg/ Sand Feeding.
The appliance conceive rationalized for effortlessly manor adept mixer requiring very less maintenance.
Reversible Mixer drum is rotating on well align hefty duty equipment ring guided by three roller for smooth rotation.
Rotation of the concrete drum (percussion instrument), turned around is auctioned by push on the electric powered control section.
Technical Details:
| | |
| --- | --- |
| Description | EX 1050 |
| Unvib. Output | 18 Cu.M/Hr. |
| Load Capacity | 1125 Liters |
| Batch Capacity | 900 Lts. |
| Power Required | 27 Hp. |
| Chassis | Heavy Duty, Robust & Balanced Chassis. |
| Wheels | 4 Nos. Pneumatic Wheel |
| Mixing Drum | Forward rotation mixing of concrete & reverse rotation discharge of concrete. |
| Loading Hopper | Hydraulic operated with heavy duty power pack ( with ISI Mark fittings.) |
| Water Tank | Adjustable 250 Liters water tank with over flow arrangement. |
Model
EX 550-E
EX 850-E
EX 1050-E
EX 1050-D
EX 1400-E
Hopper Capacity (Dry)
550 Kg
850 Kg
1100 Kg
1100 Kg
1400 Kg
Batch Capacity (Wet)
0.3 m3
0.4 m3
0.5 m3
0.5 m3
0.66 m3
Machine Output/hour *
9 m3/hr
12 m3/hr
15 m3/hr
15 m3/hr
18 m3/hr
Power
10 HP(7.5 Kw) Elec. Motor
10 HP(7.5 Kw) Elec. Motor
15 HP (11 Kw) Elec. Motor
16 HP Diesel Engine
15 HP (11 Kw) Geared Motor
Weighing Type
1 Bin
3 Bin
3 Bin
3 Bin
3 Bin
Water Dozing
Digital
Digital
Digital
Digital
Digital
Water Tank Capacity
120 Liters
150 Liters
200 Liters
200 Liters
250 Liters
Weighing System
Load Cell Based Weighing System with Digital Display
Hydraulic Pump
17 lpm @170 bar
19 lpm @170 bar
19 lpm @ 200 bar
27 lpm @ 200 bar
27 lpm @ 200 bar
Gear Ring & Roller
Accurately Machined With Gear Cutting Operation Supported by Heavy Duty Guide Rollers
Wheels
Pneumatic Wheels ( 4Nos.)
6"X 16"
Pneumatic Wheels( 4Nos.)
6"X 16"
Pneumatic Wheels( 4Nos.)
6"X 16"
Pneumatic Wheels( 4Nos.)
6"X 16"
Pneumatic Wheels( 4Nos.)
7"X 19"
Jack Leveling
Pin Type (4 nos.)
Pin Type (4 nos.)
Pin Type (4 Nos.)
Pin Type (4 Nos.)
Pin Type (4 Nos.)
Dimensions (L X W X H)
3240 X 1450 X 2650 mm
4000 X 1650 X 2700 mm
4690 X 1890 X 2900 mm
4600X 1890 X 2740 mm
4816 X 2000 X 3100 mm
Weight (Approx)
1500 Kg
1830 Kg
2280 Kg
2650 Kg
2950 Kg
Special Attachment Fitted with Each Machine
A) Special Design Hopper Vibrator B) Centralized Lubricating System
Optional Features
A) Printing System with USB B) Admixer Dozing C) With Conveyor System