Walk Behind Vibratory Roller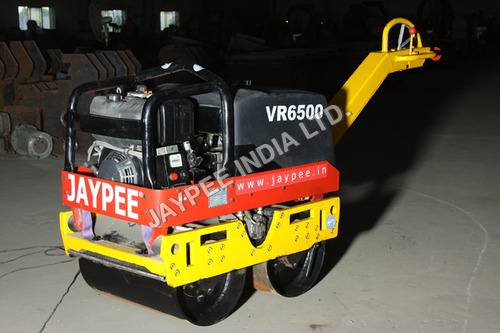 Walk Behind Vibratory Roller
Product Description
Our company is one of the progressive and prominent manufacturer and supplier of movable Walk Behind Vibratory Roller. Engineered according to the international quality and authenticity standards, our entire range is in a high demand in the national and international market. Our skilled quality controllers closely examine the products on predefined parameters and standards set by the industry. Offered at industry leading prices, our mobile Walk Behind Vibrating Rollers are known for its robust construction, long operational life and corrosion & rust proof surface finish.
Suitable Application Areas

Include construction and repairing of roads, pavements, compaction of canals, embankments, private roads, hilly terrains with sharp bends, culverts, edges of highways, parking lots, playgrounds and various other compaction activities. In this machine, built-in oil cooler will be increase the productivity of ma Ergonomically designed controls are conveniently positioned to double-check speed, direction.


Walk Behind Vibrating Roller Advantages:
1) Electrically operated.
2) High Gradient Capacity
3) Self Starting arrangements.
4) Infinitely variable Speed Control.
5) We can work easily within small area.
6) Water Sprinkler System Drum Scrappers.
7) Mechanical Vibration Drive and control.
8) Easy access to front mounted Diesel motor.
9) Deadman control lever offers turning around protection.
10) Minimum overhand offering suitable side and constrain clearance.
11) Mechanical parking brake offered with Walk Behind Vibratory Roller.
12) Two scraper bars on each drum ensure a clean drum when employed on asphalt.
13) Multi position handle for operator is very simplified as well as comfort transport.
14) Anti vibration controls double-check non-fatiguing and reduced HAV for the operator.
15) Vibration is controlled by very simple to reach on and off switch in hasten controlled hand lever.
16) A completely hydraulic-drive scheme comprises of hydraulic bump and hydraulic motors supply infinitely
17) Ergonomically conceive handle with dead man control proposing protection to operator in turning around submissions.


Walk Behind Vibratory Roller Technical Specification:
Dimensions
Drum width
650 mm
Width
728 mm
Height
1,060 mm
Length
2,550 m
Masses
Net mass
712 kg
Operating mass (CE)
763 kg
Traction
Theor. gradeability
35%
Compaction
Static linear load
5.50 kg/cm
Speed forward
3.70 km/h
Speed reverse
2.40 km/h
Vibration frequency
61 Hz
Nominal amplitude
0.45 mm
Centrifugal force
21 KN
Engine
Manufacturer
Lombardini
Type
15LD440
Fuel
Diesel
Rated power
6.80 kW
Rated power @
2,600 rpm
Fuel consumption / h
1.35l
Fuel tank capacity
5 litre
Hydraulic system
Driving
Fully hydraulic
Sprinkler system
Tank capacity
65 litre
Type of sprinkling
Gravity
Trade Information
kolkata

Cash Advance (CA)
Middle East, Asia, Africa

, North India, East India